1
« on: January 01, 2023, 12:35:03 PM »
Many of us missed GMX at early stage which is a perpetual dex on arbitrum and avax. Now we know how successful it's, even it's already listed into Binance. Also after FTX collapse, many users started using DEX rather than trusting CEX. While DEX ecosystem is growing, there is a lot of fork of GMX nowadays, however many forked perpetual Dex has unique feature which makes those unique to be successful in the ecosystem. So today i will share a project with you all which is fork of GMX with extra unique feature on the BNB ecosystem.
FYI, i participated into the early stage of testnet and really like the unique feature of it. So it's not a shilling or promotional content and sharing with you all, a low cap gem which could do well. Also DYOR as it's NFANote: Currently El Dorado is having a trading competition with $20,000 Prize pool, so perp traders can participate as it's easy to get into top 5 position.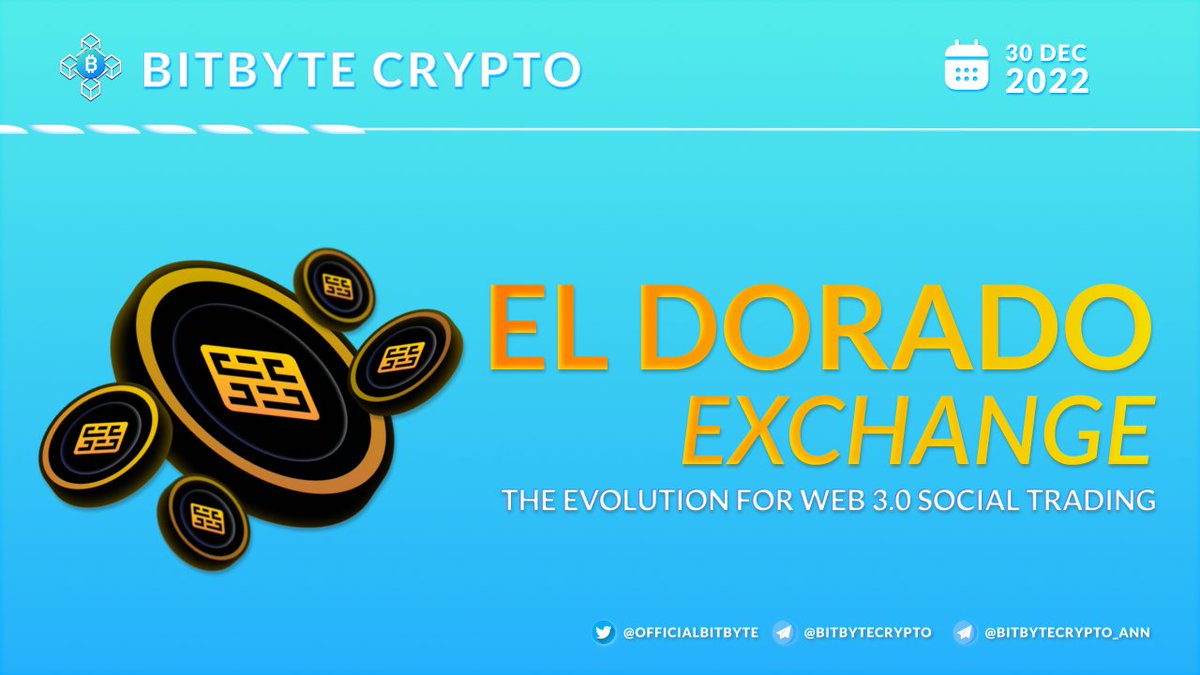 ---
According to
DefiLama chains data
, BNB Chain is the 2nd chain with TVL as well as volume, however Arbitrum is still in 4th position. So it's great opportunity for projects like this to be successful in the BNB Chain and attract more users in the long run.
Q: So is it just another regular fork of GMX?A:
There is a lot of fork of GMX nowadays, so we can't trust every one of those. We need to find out if new project is providing any unique features or not. So El Dorado Exchange or EDE is a fork of GMX for perpetual trading like others, however team did from ground up, the staking mechanisms for governance token , $aEDE, $EUSD, $ELP ( it's an index, rather than an LP token like GLP ) & #ESBT ( El Dorado Soul Bound Token). Also other products are on the pipeline like social & copy trading, De-fund (Fund Manager), Lending option for $ELP & many more.
So it's not just a regular fork of GMX to me, now others can dig down to research on it.

Q: Is it a really low capped gem?A:
EDE is not having infinite supply like GMX as it's having max supply only 30.3 Million tokens and there will be token burn by governance vote as well. FYI, team already burned 2 Million tokens.

If you're wondering about vesting or token schedule, then vesting is 4 years for team and IDO/incentivized token will have 90 to 365 days based on the ESBT level which means not selling pressure from IDO or team allocation. Also community allocation will have 20 years on vesting.
Max Supply:
30.3 Million EDE
Total Supply:
28.2 Million EDE
Circulating Supply:
242,479 EDE
Wondering what's ELP-1 or EUSD or ESBT, then do check out the twitter thread to know every details on it. Also don't forget to participate into the trading competition if you want. So i just cover major things in here.

So reply/comment what do you think about this project and are you going to participate in the trading competition like me?
Important Links:
Website:
https://ede.finance
Stats:
https://stats.ede.finance
Docs:
https://docs.ede.finance
BitByte Crypto:
https://twitter.com/officialbitbyte